Rear-End Truck Accident Lawyers in Augusta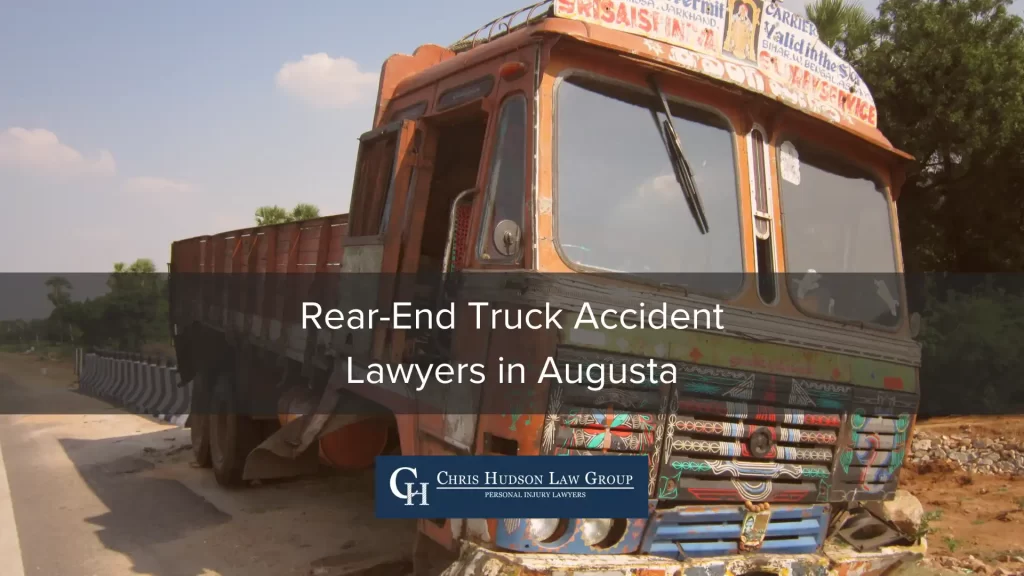 Rear-end accidents are often sudden and entirely unexpected collisions that can result in severe injuries. One moment you are comfortable behind the wheel, the next your entire life has been turned upside down and you couldn't even see it coming. When you're in a collision with a commercial truck, there is no such thing as a "fender bender". A rear-end accident with a large truck is a violent and catastrophic event that can cause tremendous physical and financial harm to you and others inside your vehicle.
If you were hurt in a rear-end accident with an 18-wheeler, don't assume the truck driver and the company they work for will take full liability for the accident. You need the experience of a skilled and aggressive personal injury lawyer who specializes in truck accidents to get the full and fair compensation that you deserve.
For more information on how the Chris Hudson Law Group in Augusta, GA can help you achieve a positive outcome after being rear-ended by a negligent truck driver, call us at (706) 863-6600 today or fill in our contact form to schedule your free consultation.
Common Causes of Rear-End Accidents
The overwhelming majority of rear-end accidents boil down to just one simple factor, lack of attention. In fact, the National Highway Traffic Safety Administration calculates that at least 87 percent of all rear-end collisions could have been prevented if the at-fault driver had been paying attention to their surroundings.
This lack of attention is particularly dangerous for drivers of large and commercial vehicles. A fully-loaded truck is difficult to stop, even more so at high rates of speed. By the time a truck driver realizes that they suddenly need to stop, it is already too late. In general, an 18-wheeler takes 40 percent longer to come to a complete stop than an average passenger vehicle. That means a fully loaded truck traveling at 60 mph on dry pavement needs at least 335 feet before it can come to a stop. That is just a little over the length of a football field.
The following behaviors are common causes of rear-end accidents:
Distracted driving
Driving while intoxicated
Fatigued or drowsy driving
Aggressive driving (speeding, unsafe lane changes, following too closely)
Rubbernecking
Inclement weather
Truck drivers who brake suddenly to attempt to avoid a rear-end collision may also cause other serious types of accidents. Sudden braking can result in jackknife and rollover accidents as well as rear-end collisions.
Injuries from Rear-End Accidents
The most common injury associated with rear-end accidents is neck injury. Whiplash is a common complaint from victims who are involved in rear-end accidents. However, rear-end accidents involving large trucks or commercial vehicles are a different beast entirely. The sheer size and weight of these trucks make even a low-speed rear-end accident much more severe than a passenger car rear-ending another passenger car.
When a large truck slams into the rear of a passenger car, the energy from the impact can send the driver of the car violently hurling forward. An airbag may be able to absorb some of the impact, but head, neck, spine, and facial injuries can still be significant.
Some of the most common injuries associated with rear-end impacts can include:
Concussion
Facial injuries
Dental injuries
Whiplash
Other head, neck, and spinal injuries
Crushed ribs
Fractured bones
Punctured lungs
Organ damage
Internal bleeding
Serious injuries mean serious medical bills. Hospitalization, surgery, medical follow-ups, prescriptions, physical therapy, and aftercare can add up to a tremendous amount of money. Factor in your potential inability to return to work right away because of these injuries and it can become difficult to make ends meet. Should you be propelled into a financial pit that is difficult to dig out of just because a negligent driver rear-ended your vehicle?
The trucking company and its insurers know that payouts for large truck accidents can be high. It is in their best interest to get you to quickly accept their first, and probably extremely low, compensation offer. While this check may help you pay a few bills now, it generally doesn't come close to covering all of the damages from the accident.
If you want to make sure you are getting a fair deal and maximizing your compensation package, contact the legal team at Chris Hudson Law Group for help with your claim. We can thoroughly review your case and help you understand your rights and what you may be entitled to as far as full and fair compensation goes.
Compensation for a Rear-End Accident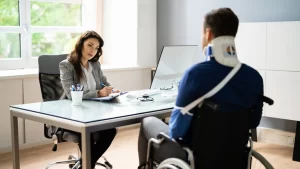 One of the most common mistakes that victims make after being involved in a rear-end collision is assuming that they don't need an attorney, because rear-end accidents automatically mean the other driver is at fault. That is not the case, especially when dealing with a trucking company, its insurers, and its team of aggressive attorneys.
Trucking companies employ teams of attorneys to protect them and their assets. One of the ways they accomplish this is through tactics designed to absolve drivers of the majority of the blame for an accident. They can do this through evidence, or lack thereof, and they can manipulate victims into admitting partial blame. In Georgia, the percentage of blame assigned to each driver for an accident is important, especially when it comes to recovering compensation.
Georgia employs a "modified comparative negligence" model for assigning accident liability and distributing compensation. Under this system, each driver involved in an accident is assigned a percentage of liability for causing the accident. One party may be more at fault than the other, but if the other driver was engaging in any behavior that even slightly contributed to the accident, they also bear part of the blame.
The at-fault driver could be 80 percent to blame, while the victim is 20 percent to blame. That means the victim can recover the total amount of damages, minus 20 percent. If damages are $100,000, then the victim can recover $80,000. However, any party found to be more than 50 percent liable for causing an accident will not be able to recover any money for their damages. This rule doesn't just apply to court cases. Insurance adjusters are bound by this rule as well.
In the case of a rear-end accident, an insurance adjuster can attempt to assign partial blame to the victim by claiming that the driver engaged in any of the following behaviors:
Pulled out in front of the truck too quickly
Pulled out in front of the truck without looking
Failed to use their turn signals
Failed to yield the right of way
Had defective brake lights
Securing your own attorney means that you are securing your rights. An attorney can fight back against a trucking company's allegations by uncovering crucial evidence that could help build a solid case in your favor. You may not have access to the truck's dashcam footage or black box information, but an attorney has the power to gain that information.
Steps to Take if You Are in a Rear-End Accident with a Truck
Get to safety and call the authorities. In any accident involving a large or commercial truck, you want to examine yourself and your passengers for injuries, and if possible, get to a safe location. This means making sure you are out of danger from passing vehicles and the large truck itself. While rear-end accidents don't typically rupture the truck's gas tank or cargo load, you have no way of knowing with certainty that there will be no explosion. Your gas tank could be ruptured, the truck could be carrying dangerous materials, or the impact of the crash could have impacted the integrity of the cargo. Don't take any chances. Make sure you are safe and call the authorities right away. 
Exchange information. Get as much information from the driver of the truck as possible. You may also want to take note of their mental state: do they seem tired or drowsy or distracted? Make note of their appearance and manner. This may be important later on. You will need to take note of things like their name, driver's license information, license plate number, phone number, insurance carrier, and the name of the company the driver works for. 
Gather witness information. If there are witnesses to the accident, make sure you get their names and contact information. 
Document the accident. If you are able, try to document as much information as you can about the accident. Take photos of the accident, the damage to your car, the damage to the truck, any marks made on the road, and nearby traffic lights or signs. It also helps to take pictures from different angles. 
Do not make statements about the accident. Do not make statements about the accident to anyone or on social media. It is best just to stick to the facts. Do not assign blame, and do not give statements to the truck driver or their insurance adjuster until you have solid legal advice.
Contact an attorney as soon as possible. This is one of the last steps, but also one of the most important for how things will turn out moving forward. An experienced attorney is a person you can count on to protect your legal rights and negotiate on your behalf with the trucking company and their insurers.
Contact an Experienced Rear-End Accident Attorney Today
Being involved in a rear-end accident with a large truck is overwhelming. You may be dealing with excruciating injuries while fending off calls from multiple different parties. You may feel trapped, confused, and at a loss as to who to trust during this vulnerable time. At Chris Hudson Law Group we want you to know that you can put your trust in us. Our team of truck accident lawyers has extensive knowledge and experience both at the negotiating table and in the courtroom.
If you or someone you love has been involved in a serious rear-end accident, it's time to start seeking the justice and compensation you deserve. Call our office today at (706) 863-6600 and let's get started with a free consultation.