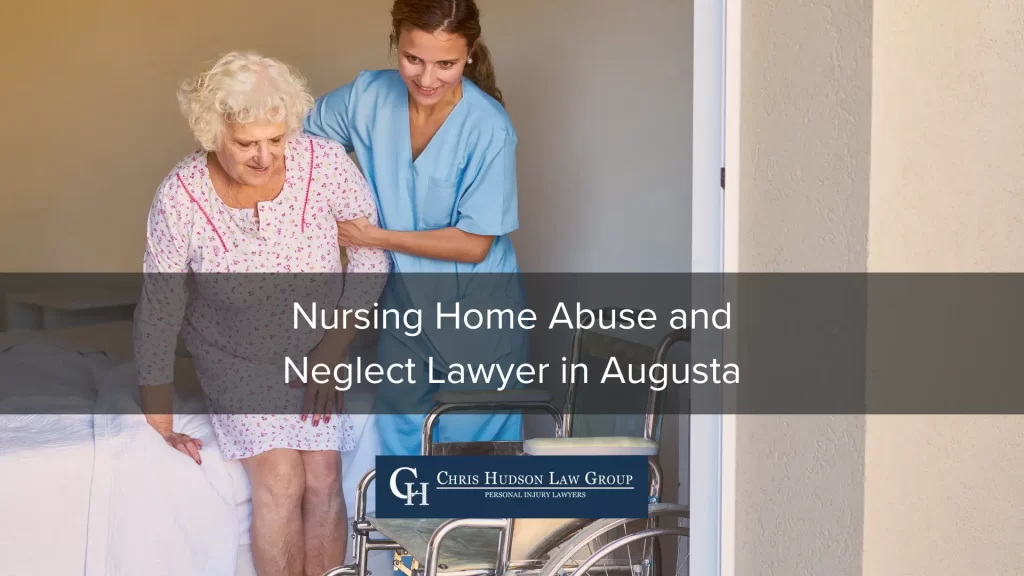 When you make the often-difficult decision to place a loved one in a nursing home or another elder care facility, you have a right to expect that they'll receive compassionate and attentive care. You also assume that they will be allowed to live their lives with the dignity they deserve. However, startling statistics show the consistent mistreatment of the elderly in nursing homes across the country. In 2019 alone, there were over 600 cases of abuse and neglect at facilities throughout the state of Georgia. It's overwhelming to think about your mother, uncle, or friend suffering at the hands of people responsible for their medical care.
At The Chris Hudson Law Group, our nursing home abuse and neglect lawyers are committed to uncovering and stopping abuse and neglect in facilities in Georgia. Whether the facility's caregivers refuse to follow protocol or management fails to provide a safe environment or adequate supervision, you could receive compensation for the suffering your loved one endured. We believe in seeking justice for victims and their families. No one should ever experience what the elderly get exposed to at these facilities every day. It's our goal to ensure those responsible for any misconduct pay the maximum settlement available under Georgia law.
What Signs of Abuse Should I Look for at the Nursing Home?
Nursing home abuse occurs when the nursing home staff harms one of their patients. The harm elderly individuals face comes from someone's negligence or intentional, careless behavior. Medical facilities like these hold a responsibility to protect their residents and ensure safe and comfortable living conditions. If they don't adhere to this responsibility, they could face financial punishment or criminal charges. Despite laws governing nursing home residents' rights, abuse still occurs. When it comes to abuse, there are three types: physical, emotional, and neglect.
Signs your loved one sustained physical abuse could include:
Signs your loved one suffered any emotional or mental abuse include:
Agitation
Inhibited speech
Fear upon your departure from the facility
Withdrawal
Signs your loved one experienced neglect include:
Unwashed bedding
Dirty clothes
An unkempt or disheveled appearance or smell
Various signs and symptoms could signify some type of abuse occurred. Pay attention to your loved one's behavior and note any changes when they interact with the nursing staff or maintenance employees. If you suspect abuse, you should seek legal representation right away. Don't wait until it's too late to take your case to court.
What Should I Do If I Think Nursing Home Abuse or Neglect Occurred?
If you notice signs of possible abuse at the nursing home, you should notify the staff immediately and make sure your complaint gets documented and added to your loved one's file. If you wish to transfer the injured individual to a treatment center or hospital, it's within your rights to do so. Make sure they end up at a facility that specializes in treating the type of injuries that occurred. Those medical records could prove beneficial in your case.
The next thing you should do is hire a nursing home abuse lawyer from Chris Hudson Law Group immediately. A lot of people feel intimidated by law firms. They may try to handle their case on their own. That could lead to potential problems down the road. If you're not familiar with specific laws and statutes governing how nursing homes should operate, you might not know what rights you have and how much money you could recover in your case. That's why hiring a lawyer to handle the legal aspects for you is crucial.
When you hire us, we'll review the details of the situation and determine if we could build a strong case for you. We'll open a thorough investigation and gather compelling evidence to prove abuse occurred at the nursing home. Without the appropriate documentation, we can't show a timeline of injuries resulting from the staff's behavior. That's why it's important to find as much supporting information as possible. Some of the evidence we'll need to obtain includes:
The facility's insurance policies
Employment records (including, hiring, training, and discipline) of staff in direct contact with the patient
Witnesses to the abuse
Photos of the injuries sustained
Any available video surveillance showing mistreatment
The victim's medical records from the nursing home and providers treating the injuries
While we're performing an investigation, we'll file an insurance claim, so you could receive compensation for any expenses that resulted from the abuse. Insurance claims typically get submitted to the facility's general liability insurance carrier. Nursing homes without insurance coverage could face a lawsuit.
What Compensation Could I Receive from An Insurance Claim Against a Nursing Home?
In any type of insurance claim involving a business, you could seek compensation for your damages. Damages are losses incurred as a result of someone's negligence. If your lawyer finds evidence of abuse, you could receive coverage for both past and future expenses resulting from this incident.
Under Georgia law, victims of nursing home abuse and their families could receive compensation for three categories of damages: economic, noneconomic, and punitive. Examples of these categories of damages include:
Medical Expenses: Necessary medical care to treat the victim's injuries, such as wound care, surgery, antibiotics, prescription medicines, assistive medical devices, physical therapy, and psychiatric treatment.
Loss of Income: Any wages you couldn't earn while taking care of your loved one since you first reported the injury.
Emotional Trauma: The psychological or emotional distress experienced as a direct result of the abuse and actions taken to fix it. Examples include stress, depression, insomnia, and anxiety.
Pain and Suffering: Any significant pain and suffering experienced from watching the victim endure the negative impact of their injuries.
Punitive damages: While rare, the court may award punitive damages for gross negligence or willful and wanton acts that caused harm.
An insurance claim is useful in seeking the necessary reimbursement of costs from taking care of your loved one. You shouldn't have to suffer as a result of another person's blatant disregard for their patient's well-being. You have options for receiving the proper reimbursements of expenses used to ensure the safety of your family members. At Chris Hudson Law Group, our nursing home abuse lawyers understand the importance of receiving fair treatment and punishing those who take advantage of others.
What If The Nursing Home Doesn't Have Liability Insurance?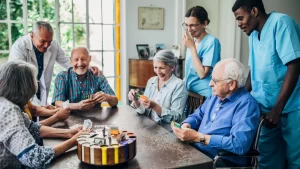 If the facility where your loved one lives doesn't carry general liability or medical malpractice insurance, you could try to file an insurance claim with the caregiver's insurance carrier. Many nurses apply for their own insurance coverage if their actions cause harm to one of their patients. However, not all nurses choose that option, and it's not a requirement in the state of Georgia.
So what other options do you have? You could file a lawsuit against the nursing home facility. A lawsuit is a complicated legal road to navigate. There are strict deadlines to adhere to and vital documentation to submit. If you miss a deadline or fail to provide decent evidence, you could lose your right to compensation.
Our nursing home abuse lawyers know Georgia requirements forward and backward. We make sure to meet all deadlines and provide the information necessary to show your loved one's injury occurred because of another person's negligence. The statute of limitations in the state of Georgia is two years. That means you have two years from the date of the injury to file suit. If two years pass, you lose your chance to receive compensation, now or in the future.
Call Chris Hudson Law Group If You Suspect Your Loved One Suffered Nursing Home Abuse
The Augusta nursing home abuse lawyers at Chris Hudson Law Group are committed to the health and well-being of our elderly citizens.
You can meet with us risk-free to discuss the details of your case and receive sound legal advice. We'll be ready to help you take immediate action to put a stop to the abuse or neglect that your loved one (and likely others) have suffered. The right thing to do is to identify all liable parties and hold them accountable for their actions or inaction. Let us help you get justice today.
Our team of legal professionals is available 24/7 through the live chat feature on our website. Whatever time of day it is, you'll get connected to a skilled and knowledgeable staff member. We will answer any questions you have and set you up for an appointment with one of our nursing home abuse lawyers. Call us at (706) 863-6600 today if you suspect your loved one was the victim of nursing home abuse. We'll schedule your free consultation as soon as possible.