Causes of Workplace Accidents in Grocery Stores in Georgia and South Carolina
Posted on Monday, October 14th, 2019 at 9:46 pm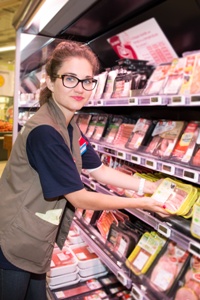 Working in a supermarket is physically demanding, and the duties of workers are becoming more varied as these stores increase the range of products they sell. Many of these workers don't make a lot of money and can't afford to be off work to care for an injury or to get the medical treatment they need from a doctor or urgent care center. Fortunately, they may be able to file a workers' compensation claim to receive benefits to pay for their medical treatments and replace their lost wages under workers' compensation laws in Georgia and South Carolina.
Grocery Worker Hazards That Lead to Workers' Comp Claims
Employees at supermarkets fill many positions in the store. Some of these include:
Stocker
Cashier
Delivery person
Baker
Butcher
Deli worker
Bagger
Manager
Specialty department worker
Pharmacy staff
Janitorial staff
Types Of  Grocery Store Employee On The Job Injuries
Because of the different job duties in a grocery store, the causes of employee injuries also vary. Some of the top causes of injuries include:
Slip and Falls
Spilled liquids or dry goods, worn flooring, and icy parking lots are just a few of the hazards that can lead to a slip and fall accident. When people stocking shelves must climb ladders or work in loading docks, they face increased dangers of a fall from a height and suffering a catastrophic brain, spinal, or other injury.
Overexertion
One of the most common workplace injuries is an overexertion injury caused when workers must lift or lower boxes and goods that are too heavy for them. This can result in back injuries and muscle strains and sprains that can cause pain and limitations in movement.
Food Preparation
Food preparers working in the butcher and deli departments can suffer serious injuries when using sharp knives and meat-cutting equipment. Others can sustain burns that cause scarring, disfigurement, and nerve damage if injured by hot stove tops, ovens, and foods.
Repetitive Movements
These jobs often involve repetitive movements and working in awkward positions. Cashiers especially can experience muscle, tendon, and ligament strains and sprains, carpel tunnel syndrome, tendinitis, and trigger finger.
Vehicle Accidents
When baggers and other employees must retrieve carts in the parking lot, they can be hit by a negligent driver and sustain catastrophic injuries that leave them permanently disabled.
Violence
Unfortunately, people who work at supermarkets can be the victim of violence by disgruntled customers or criminals trying to rob the store. The dangers increase for those who have to work during late night shifts.
Chemicals
Workers can be exposed to harmful chemicals used in keeping the grocery store clean and may develop occupational illnesses as a result.
Have You Been Injured At Work?
If you've been injured on the job you need to speak with an experienced workers' compensation lawyer as soon as possible. Contact us online or call our Augusta office directly at 706.863.6600 to schedule your free consultation.