If you suffered a traumatic brain injury in an accident someone else caused, you might wonder what to do next. Most people don't know how to handle an insurance claim or lawsuit after someone's negligence causes their injuries. You know you need medical treatment but probably feel confused about what else you can do to prove what happened.
You should take immediate action after suffering a traumatic brain injury. That means going to the doctor, hiring a lawyer, and following the necessary steps to protect your right to compensation. You deserve to recover the money you're owed for the trauma you experienced.
What Is a Traumatic Brain Injury?
A traumatic brain injury (TBI) is an injury to the brain resulting from a jolt or blow to the body or head. A TBI can also occur with a penetrating injury. For example, a sharp object can pierce the skull and enter the brain.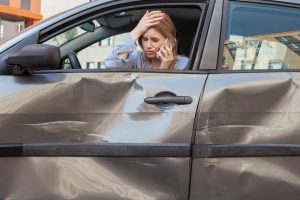 A mild traumatic brain injury can cause symptoms, such as:
Light or sound sensitivity
Headaches
Dizziness or loss of balance
Trouble sleeping
Memory or concentration problems
Difficulty with speech
Fatigue
Vomiting or nausea
Changes in mood
Blurry vision
The symptoms often associated with a moderate or severe TBI include:
Persistent or worsening headache
Convulsions or seizures
Profound confusion
Slurred speech
Repeated nausea or vomiting
Loss of consciousness for a few minutes to hours
Dilated pupils
Loss of coordination
Numbness or weakness in the fingers and toes
Coma
A traumatic brain injury interferes with how the brain functions. The damage can lead to serious mental and physical impairments. Most people require ongoing medical treatment to manage their symptoms and heal the injury. In some cases, permanent disability occurs.
How to Prove You Suffered a TBI in an Accident
You need evidence to prove your traumatic brain injury happened in the accident. The evidence listed below could show you suffered a TBI and prove someone else should be held liable for your resulting medical bills and other losses.
Police or Incident Report
If you were involved in a motor vehicle accident, you could request a copy of the police report as long as law enforcement showed up at the scene to investigate. Officers typically write reports that include various details regarding the crash. They can interview all drivers involved and any witnesses to determine who was at fault. They might also include information about injuries and whether anyone needed an ambulance transport to the hospital.
Request to complete an incident report if you were hurt on someone's property or at work. You can describe the events leading up to the accident and the injury you suffered as a result.
Medical Records
Your medical records are vital pieces of evidence. You can prove you have a traumatic brain injury by showing your records to the insurance company. As long as your doctors diagnosed you with a TBI and included it in their notes, you shouldn't have a problem proving what happened.
It's crucial to attend all necessary doctor's appointments while treating your injury. Each time you see your doctor, they should add more notes to your patient file regarding your recovery progress. The more treatment you need, the higher your expenses. That could lead to higher compensation in an insurance claim or lawsuit.
Billing Statements
Treating a traumatic brain injury costs money. You might need to pay for prescription drugs to alleviate your pain and other symptoms. If you suffered a brain bleed or another complication, you could require surgery to repair the issue. You could have also incurred out-of-pocket costs.
You should keep a copy of every invoice, receipt, billing statement, and bank statement you receive after the accident. These records can help show you sustained a TBI in the accident and had to pay for medical care. If you couldn't return to your job, you can complete a lost wage report to show the income you were unable to earn.
Visual Evidence
Visual aids can be the gold mine of evidence in a TBI case. You should try to take pictures of any visible injury you have immediately after the accident. You could also secure footage of any video surveillance that captured the incident. For example, if you were on someone's property and fell down the stairs, a security camera might show you hit your head during the fall.
Statements from Witnesses
If someone saw the accident happen, they could provide a witness statement. Witness statements can be effective in proving who was at fault. They can also provide critical details about the events leading up to the incident and what happened in the immediate aftermath.
A witness might have seen you hit your head on something and give the investigating officer or insurance company a statement. What they say could back up your claim about sustaining a TBI.
Contact Chris Hudson Law Group
If you suffered a traumatic brain injury in an accident due to someone else's negligent actions, do not hesitate to contact Chris Hudson Law Group. One of our Georgia traumatic brain injury lawyers can discuss the incident during a free consultation and advise what we can do to help.
Our legal team will fight to hold the at-fault party liable and aggressively pursue the maximum compensation available on your behalf. Call us at (706) 863-6600 today.