Will You Need to File a Workers' Comp Claim for One of These Cold Weather Injuries This Winter?
Posted on Monday, October 14th, 2019 at 9:21 pm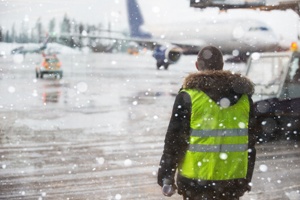 While the winters in Georgia are certainly milder than those in northern states, we still have days of snow, cold, and ice. The kids may enjoy getting a day off of school, but it is no fun to be an adult who must work outside in these conditions. If you must work outside for periods of time in the winter, you are at risk of suffering an injury caused by exposure extreme weather. However, you may be entitled to workers' compensation benefits under Georgia law.
Who Is Most at Risk of Suffering an Injury Caused by Exposure to Cold Weather?
Many people work outside on a regular basis, and their jobs do not stop when the weather turns nasty. Workers who are likely to suffer injuries due to overexposure to cold temperatures include:
Construction workers
Roofers
Police officers and firefighters
Emergency medical technicians
Employees removing snow and ice
Employees in waste management and recycling industries
Public transit workers
Utility company workers
Pipeline workers
Postal workers
Airport employees
Workers in agriculture
Injuries Caused by Exposure to Cold Temperatures
While workers in Georgia are not often exposed to dangerously cold weather, they may be at greater risk of suffering an injury because they are not as prepared for this weather when it does happen as people who live in colder climates. These injuries should not be ignored or treated lightly because some can lead to tissue damage and death. Common injuries include:
Hypothermia.
When a worker's body heat is lost faster than it is produced, all of the stored heat will be used up and he can develop hypothermia. Shivering, fatigue, loss of coordination, and confusion are early signs of this condition. More serious symptoms include slowed pulse or breathing or loss of consciousness.
Frostbite.
Frostbite is an injury caused to a specific body part exposed to cold temperatures. It most often affects the eyes, ears, cheeks, chin, fingers, and toes. Symptoms may include loss of blood flow to affected body parts, numbness, tingling, aching, and bluish or waxy skin. When the frostbite is severe, it can cause permanent tissue damage and amputation of body parts.
Trench foot.
Trench foot is an injury to the feet caused by prolonged wet and cold conditions. However, it can occur in temperatures as warm as 60° F if a worker's feet are constantly wet. To prevent heat loss, the body can reduce circulation and blood flow to the feet, resulting in permanent tissue damage if left untreated. Possible symptoms include leg cramps, numbness, swelling and reddening of the skin, tingling pain, blisters, and gangrene.
Workers' Compensation Benefits You Could Be Entitled to If You Suffer a Cold Weather Workplace Injury
If you suffer frostbite, hypothermia, trench foot, or another cold weather injury on the job, you may be entitled to workers' compensation benefits from your employer. In Georgia, you can receive these types of workers' compensation benefits:
Medical expenses
Temporary partial disability payments to replace a portion of your wages if you cannot perform all of your job duties while recovering from your injuries
Temporary total disability payments to replace up to 66 percent of your wages while you are off work due to your injuries
Permanent partial disability payments if you suffered a permanent disability
Vocational training
Contact Our Office Today If You Need to File a Workers' Compensation Claim
Did you suffer a cold weather injury at your job? Do you need to file a claim for workers' compensation benefits due to another injury or illness? Although you may be entitled to benefits under Georgia law, your employer's insurance company could try to deny or reduce your claim. Our experienced workers' compensation attorneys are here to gather the evidence you will need, file your claim, and negotiate your settlement for you. Contact us online or call our office directly at 706.863.6600 to schedule your free consultation.