Waynesboro Personal Injury Lawyers
If you've been seriously hurt in an accident in Waynesboro that wasn't your fault, you may be entitled to receive financial compensation. You should not have to pay for an injury that was caused by another person. It doesn't matter if your injury was the result of a collision with a drunk driver, an accident with a commercial truck, or medical malpractice. Someone else's negligent actions should not mean that you have to deal with the financial ramifications of an injury.
There are often more questions than answers after a serious accident. You may be facing a growing stack of medical bills, and you may be wondering how you are going to pay them. You may already be out of work due to your injury. You need help, and you need it now. The good news is that you do not have to go through this ordeal alone.
Contact us today at (706) 863-6600 to talk with a Chris Hudson Law Group personal injury lawyer about your case. We understand that this is a painful and frustrating time. We believe that you should be able to focus on your recovery and move forward with your life. Let us handle your case so that you can put this difficult experience behind you.
Personal Injury in Our Community
Most of us move through our days without worrying if we are about to get into an accident. An unexpected injury is not something that can be planned, and we usually don't even see it coming. Once we've been seriously injured, it can quickly take over our life as we try to put the pieces back together.
At Chris Hudson Law Group, we are local lawyers who are here to serve the same communities where we live, work, and play. In the state of Georgia, motor vehicle crashes are the second leading cause of trips to the emergency room and hospital visits. They are also the number one cause of injury deaths in the state.
These unfortunate statistics are a sobering reality that we often only experience once they affect our own life or our loved ones. Our attorneys have made it their mission to serve our communities and fight for individuals just like you. We believe that your only job after an injury from an accident should be to focus on your recovery and healing.
Why Do I Need an Attorney?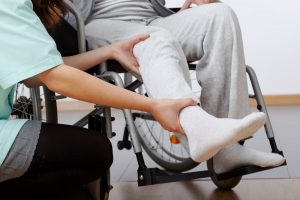 An individual person who has been injured is at a disadvantage when it comes to the legal system. You will likely be facing insurance companies that have been through this many times before. They understand how the process of pursuing monetary compensation after an accident works. They use this knowledge to their advantage by doing anything they are legally able to avoid paying out money. They also use tactics to minimize the amount that they may have to pay. Each dollar they avoid paying out is another dollar they can keep in their own pocket.
They may try to get you to speak with an adjuster on the phone while they record the conversation. They may ask questions or attempt to get you to make statements that indicate you were at fault. You should not have to worry about this type of stealthy tactic. Chris Hudson Law Group attorneys will be looking out for these techniques and will be able to handle the insurance companies on your behalf.
Insurance companies are known for making settlement offers that are too low. They hope that you will accept the offer without realizing that it's unfair and should be higher. They've been doing this for decades. You need someone on your side to balance out the situation and give you the best opportunity to receive what may be legally yours.
We will consider all the components of potential compensation to which you may be entitled. This may include prescription medication, medical bills, future physical therapy, ongoing medical care, future earnings, lost wages, emotional distress, and pain and suffering. You can put your mind at ease knowing that we will handle all negotiations in your case. We will thoroughly review all settlement offers and will reject any lowball offers. While most cases are settled outside of court, we will be prepared to go to trial if need be.
At Chris Hudson Law Group, we will handle your case on a contingency-fee basis. What this means is that you do not owe us any money unless you receive compensation.
Areas of Practice
We have a depth of experience in many types of personal injury cases. We have represented many individuals in Georgia who found themselves in similar situations as you through no fault of their own. Each type of injury and case is unique and will vary based on many factors. The types of cases we are prepared to handle include:
Call a Waynesboro Personal Injury Lawyer Today
If you've been injured in an accident in Waynesboro that was caused by someone else, you might be entitled to receive compensation. You need an experienced lawyer on your side who will build a solid case and fight for the compensation you deserve. You should not have to pay for an injury that was another person's fault.
When you choose Chris Hudson Law Group, you can trust that you are working with a legal team that knows how to get results. Our many previous satisfied clients are the reason we do what we do.
We have answered many of the questions we most often hear from our clients on our FAQ page. Call us today at (706) 863-6600 to speak with a member of the Chris Hudson Law Group legal team about your case and your options. You can also submit a contact form. We'll be in touch soon for your free consultation. Let us handle your case so you can put this devastating time behind you as you rebuild your life.