What Are Truck Driver Training Requirements?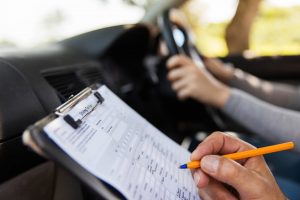 For anyone in the United States wishing to operate a tractor-trailer, it is first necessary to obtain a commercial driver's license (CDL). This is required for those who wish to drive:
A single vehicle that transports 16 people or more
A single vehicle with a weight of 26,000 pounds or more
Any combination vehicle weighing 26,000 pounds or more
Applicants for a CDL must meet several specific requirements, which vary from state to state.
CDL Age Requirements in Georgia
The Federal Motor Carrier Safety Administration (FMCSA) is the national body that regulates the trucking industry. According to their requirements, commercial truck drivers must be a minimum of 21 years old. In Georgia, however, drivers who are 18 or older can be eligible to obtain a CDL.
Drivers between the ages of 18 and 20 can acquire a special license to operate a commercial truck. This license restricts these individuals from driving within the state of Georgia. The restriction no longer applies as soon as the person turns 21. From that age onward, the driver of a semi can legally drive across state lines.
Types of CDL
There are two CDL classes, each with its own training requirements:
Class A CDLs allow truckers to operate truck-and-trailer combinations that weigh more than 26,000 pounds. Drivers wishing to acquire a Class A CDL need 30 hours of driving experience through a training institution that meets FMCSA standards. This experience must include ten or more hours of driving the vehicle on a practice driving range.
Class B CDLs are necessary for those who wish to drive dump trucks, box trucks, school buses, city buses, or motor coaches. To qualify for a Class B CDL, the applicant must first obtain 15 hours of driving experience. Seven of these hours must take place on a practice range.
Other Requirements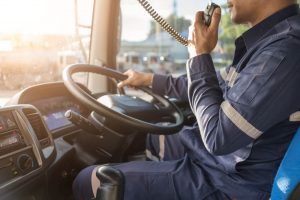 Regardless of which CDL class the driver wishes to apply for, they will also be subject to a driving record check. Additionally, they must:
Pass a written state test
Apply for a commercial learner's permit
Have the learner's permit in their possession for a minimum of 14 days before taking the skills test
Pass the skills test
Special requirements also apply for truckers who transport hazardous material (hazmat). In addition to meeting all the above requirements, they are also subject to background checks for felony convictions and mental incompetency. They must also submit fingerprints.
Whether or not the driver is transporting hazmat, certain major offenses (such as leaving the scene of a crash or driving under the influence) will lead to disqualification from operating commercial trucks.
Who May Conduct FMCSA Approved Training?
You can find a full list of approved trainers on the FMCSA Training Provider Registry. A training school needs to meet specific standards in order to qualify, including the following:
The training on offer must meet all of FMCSA's standards for entry-level drivers.
The facility's training must comply with FMCSA requirements on administration, assessments, trainer qualification, training vehicles, and issuances of training certificates.
In the event of an FMCSA audit or investigation, the school must be able to provide documentation of their compliance with the relevant requirements.
If You Suspect an Under-qualified Driver Has Caused Your Accident
Due to the size and weight of these vehicles, commercial trucks can cause serious damage and devastating injuries. Not only do the semi drivers have an ethical and legal responsibility to acquire the necessary training, but employers must also ensure that the drivers they hire are following the rules and requirements of the job. Nevertheless, even with all these requirements in place, there is no guarantee that all truck drivers have met the training standards necessary to operate their vehicles. If not, both the individual driver and the trucking company could be liable in the event of an accident.
Contact Us
If you or someone you know has been in an accident with a commercial truck, it is possible that the trucker's inexperience or lack of training may have caused the crash. In such a case, an experienced accident and injury lawyer can perform the necessary due diligence to bring the relevant facts to light.
The seasoned Augusta truck accident attorneys of Chris Hudson Law Group fight on behalf of our clients to hold the truck driver and the trucking company accountable for any form of negligence they may have engaged in. We have won millions of dollars in settlements to help victims of truck accidents recover from their injuries and heal from their trauma.
Call (706) 863-6600 today for a free consultation about what your legal options are for possible compensation. You can rest assured that, while you are focusing on your own recovery, we are working hard to deliver the outcome you deserve.