Why Your Medical History Before an Accident Is Vital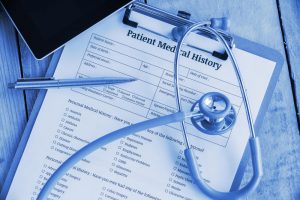 Automobile accidents happen unexpectedly. In many cases, you literally don't know what hit you. While you can't turn back the clock to prevent the accident, you can gather information about your status and condition prior to the accident. Certain records and documents can help you after you have been injured in a crash caused by someone else's negligence. Medical records and a thorough medical history report can be crucial to help you prove your injuries were related to the accident.
It is no surprise that insurance company lawyers will do their best to pay a car crash victim as little as possible. One way they attempt to do so is to carefully review medical histories to look for past injuries or medical conditions they can blame for your current situation. Insurance companies often refuse to pay for injuries that do not leave outwardly visible marks or scars. They will attempt to claim that certain complaints, such as neck or back pain, are due to pre-existing conditions or even the aging process rather than the car accident itself. Having complete and accurate medical records from years past can prove that your current injuries are not related to previous injuries or conditions.
What Are My Medical Records?
It can feel overwhelming to consider tracking down medical records from injuries and procedures that happened years ago. The skilled personal injury lawyers at Chris Hudson Law Group are here to help.
Here are just a few examples of medical records documenting things that happened in the past that could be helpful in a personal injury lawsuit following a car accident:
X-rays and images showing a broken bone, plus follow-up images showing how well the bone healed
A list of current prescription medications
Surgery records
Blood work and lab test results
Mental health or psychological treatment reports
How Do I Get My Medical Records?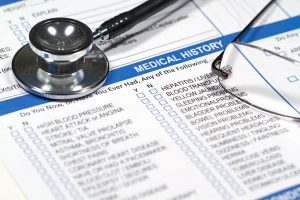 First, note that your medical records are just that: yours. You always have the right to access your own medical records. The Health Information Portability and Accountability Act (HIPAA) protects your privacy and limits who may access your medical information. However, you may authorize – in writing – another individual or entity as your personal representative to give them access to your protected health information. This will allow your attorney to work with you to find your medical providers from years ago and complete forms requesting your medical records from those providers. Once you or your representative have requested – in writing – your medical records, Georgia physicians must fulfill your request within 30 days.
It sometimes can be challenging to find your past healthcare providers. Why? Healthcare companies may merge with other entities, or doctors retire and close their practice doors. In Georgia, physicians are required by law to retain their patients' medical records for at least ten years after their last office visit. The skilled attorneys at Chris Hudson Law Group know how to find the health care facilities and medical professionals you have seen in the past.
Who Else Can Access My Medical Records?
If you have been injured in a motor vehicle accident caused by someone else's actions, the insurance company may request an independent medical examination by a doctor of their choosing to examine you and evaluate your condition. This may involve lab tests, imaging, or other specialized tests. While some of your medical records must be made available to all parties, the skilled and caring attorneys at Chris Hudson Law Group will ensure that the medical history and records that are irrelevant to your current situation will not be provided to the opposing party.
Remember, you should never talk to the opposing party without your lawyer present. Moreover, never give them full access to your protected health information.
What Are the Costs for Accessing My Medical Records?
By law, providers may not charge you anything for locating your medical records. However, they may charge a fee for printing, copying, and mailing your records, as long as the fee is reasonable.
Our Experienced Team of Attorneys Can Help
The Augusta personal injury attorneys of Chris Hudson Law Group want to help you get the compensation you deserve after you were injured because of someone else's actions. We have worked hard for more than 15 years to stand up for our clients against the insurance companies who resist paying fair compensation. We understand the complicated laws surrounding medical records and health privacy.
If you suffered injuries in a car accident that wasn't your fault, we could help by building a strong case while protecting your privacy. Reach out to us for a complimentary case evaluation. Call us at (706) 863-6600 or contact us online today and let us start working on your behalf.
Read more: