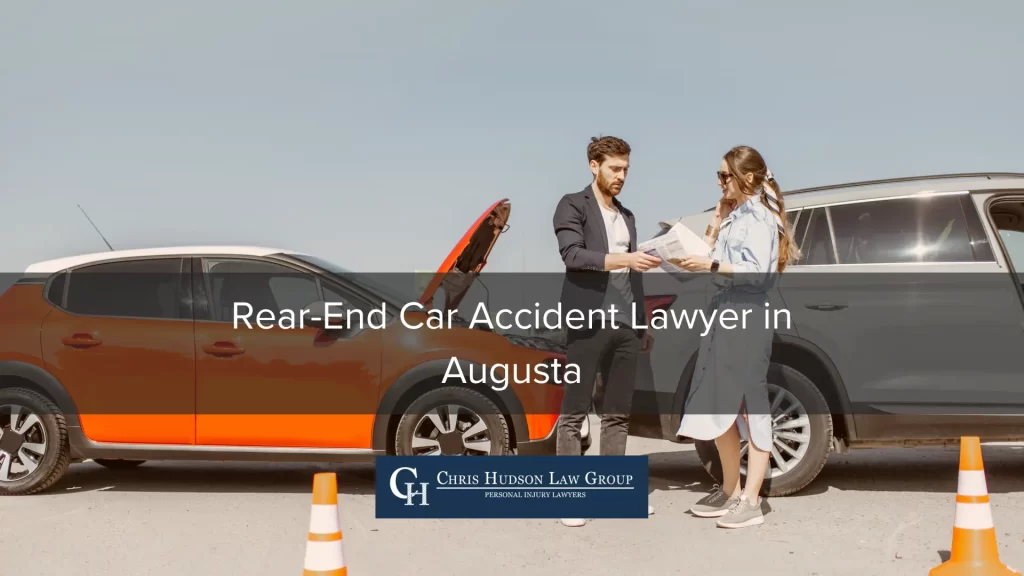 Rear-end collisions are one of the most common types of accidents in the country. While rear-end car accidents are often considered to be minor crashes, the fact is, the resulting injuries can be serious or even fatal. Even when an injury appears to be minor, at first, such as a sore neck, it can turn into a long-term or lifelong problem.
At Chris Hudson Law Group, we take rear-end car accidents and your resulting injuries seriously. Our lawyers specialize in car accident cases of all kinds. We understand the state laws and legal procedures we must follow to ensure our clients receive the financial award they deserve. We will fight skillfully to advocate for your rights and hold the other driver accountable for their actions.
Unfortunately, when a 3,000-pound vehicle crashes into the back of another person's car, the impact can cause severe injuries and property damage. You're entitled to compensation from the at-fault motorist if you can prove their actions led to your injuries. Call Chris Hudson Law Group in Augusta at (706) 863-6600 to schedule a free case review with an experienced rear-end car accident lawyer.
Common Causes of Rear-End Car Accidents
Tailgating is one of the most common causes of rear-end collisions. When there isn't adequate space between two cars, the person who's tailgating will have difficulty stopping in time if the person ahead slows down suddenly. That's why it's crucial that everyone follow the three-second rule.
It's simple – all you have to do is pick out a stationary object nearby and count how many seconds it takes for you to pass it after the car in front of you does. If it's less than three seconds, you're too close. Three seconds is the ideal following distance. If there is poor weather or dangerous road conditions, it's recommended that you add at least two or three seconds.
Other common causes of rear-end car crashes include:
Speeding
Fatigued driving
Reckless driving
Distracted driving
Traffic congestion
Slow-moving traffic
If you're on the road and someone is tailgating you, take immediate action to mitigate the risk of an accident. Don't try to get them to back off forcefully. If you resort to anger or acts of road rage, that could make the situation worse. Instead, you should merge into another lane so they can pass you or speed up to put more distance between your vehicles. You could also exit the road and take an alternate route to your destination.
What to Do After a Rear-End Accident Occurs
In the initial shock after a car accident, you may feel unsure what to do first. There are important steps you should take following your accident to protect your health, as well as your right to compensation. These steps include:
Call 911. The first step you should take is to notify law enforcement of the crash. It's the law in Georgia to report any car accident that causes an injury, fatality, or over $500 in property damage. Wait for an officer to arrive and perform their investigation. They will write a traffic crash report, and you can request a copy online when it becomes available.
Talk to witnesses. If anyone nearby saw what happened, write down their names and phone numbers. They might be able to provide a witness statement to confirm your version of events.
Exchange insurance information. Ask the other driver for their name, contact information, and auto insurance details so you can file a claim.
Take photos. Take pictures of the crash scene, vehicle damage, any injuries, and other relevant details you find.
Go to the hospital. Even if you have a minor injury, you should still seek medical treatment. What seems like a minor injury may be more serious. If the doctor refers you for additional treatment, follow their orders, and attend appointments until all your medical providers release you from their care.
Get an estimate. Bring your car to a repair shop for an estimate of the damage. You can use their report to prove the costs associated with the accident.
Hire an attorney. Contact Chris Hudson Law Group to speak with one of our Augusta rear-end accident lawyers about your case. Individuals who choose not to hire a lawyer tend to receive much lower compensation than those who do.
When we start working on your case, we'll immediately investigate the accident and work to obtain evidence that proves the other driver should be held liable for your losses.
Some of the evidence we'll gather includes:
Accident scene photos
Eyewitness statements
Traffic crash report
Car repair estimate
Security video footage
Other driver's cell phone records
Your medical records
Lost wage documents showing your inability to return to work
We know what insurance companies look for when they're investigating an insurance claim. We will fight hard for a fair settlement amount that compensates you for your expenses. We know how much you've suffered and want to make sure the at-fault motorist is held responsible for their actions. Whether you decide to file an insurance claim or lawsuit, we have the resources to reach a favorable outcome.
Common Injuries Caused by Rear-End Accidents
When a car is rear-ended by another heavy metal vehicle, the force can lead to severe injuries for the driver and occupants in the front car, especially if the rear-end vehicle is traveling at speed. The most common injuries associated with rear-end collisions include:
Concussion
Whiplash
Broken bones
Ejection injuries
Organ damage
Internal bleeding
Traumatic brain injury
Ejection injuries
Paralysis
Severe injuries, such as a traumatic brain injury, could cause permanent damage. When someone ends up with a disability after a car crash, they might require ongoing medical care and assistance completing daily tasks. It becomes an expensive injury that a lot of people can't afford. The financial strain is overwhelming and creates a significant burden for injured victims.
Chris Hudson Law Group will work hard to ensure you don't have to pay out-of-pocket for costs associated with the accident. It's our goal to pursue a financial award that covers all the past and future losses caused by your injury. You can depend on us to reach your legal goals, so you're able to move forward with your life.
Seeking Compensation Through an Insurance Claim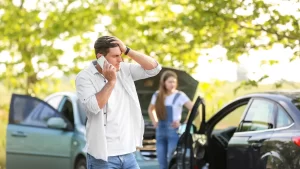 When someone gets hurt in a car accident, the first option for recovering compensation is through an insurance claim. Georgia follows a fault system that automatically holds the at-fault driver liable for the victim's damages. Damages fall under two main categories: economic and non-economic.
Economic damages are costs associated with a car crash, such as:
Medical bills
Lost wages
Lost earning capacity
Property damage
Out-of-pocket expenses
Non-economic damages refer to intangible losses resulting from the injury, such as:
Pain and suffering
Emotional distress
Inconvenience
Anxiety
Loss of consortium
You can pursue the damages listed above by filing a claim with the liable driver's auto insurance company. State law requires everyone who owns or operates a motor vehicle to carry liability insurance with minimum limits. Those limits provide compensation for an injured party's economic and non-economic damages. The minimum coverage available is $25,000 per person for bodily injury, up to $50,000 per accident for bodily injury, plus $25,000 for property damage, with the option of purchasing higher limits.
If you discover that the other motorist doesn't have insurance, you can't file a liability claim. However, you might be able to pursue a settlement through your auto insurance company. Uninsured/underinsured motorist (UM) is a form of optional coverage available in situations where the at-fault party doesn't hold liability insurance, or their limits aren't high enough.
If you decide to file a UM claim, you could seek the following damages:
Medical bills
Out-of-pocket expenses
Property damage
Pain and suffering
Lost wages
Lost earning capacity
Chris Hudson Law Group will review all the available insurance policies to determine the amount of coverage you can pursue. You might also have the option of filing a lawsuit against the at-fault driver if you end up with a denied claim or settlement amount much lower than you deserve. You can depend on us to choose the best course of action to maximize your case's value.
Schedule Your Free Consultation With a Chris Hudson Law Group Car Accident Lawyer
We know the financial strain you and your family have faced since the rear-end car accident. We don't want to add more stress to your life. That's why we offer a free initial consultation and take all cases on contingency. That means there are no upfront fees or costs to receive legal representation. We don't collect our legal fees unless we win compensation for you. If we lose your case, you won't have to pay us.
Since 2005, Chris Hudson Law Group car accident lawyers have helped clients in Augusta and the surrounding areas recover the maximum compensation available. We care about the people who hire us and will always make your case a priority. We offer one-on-one attention, support, and guidance from start to finish of the legal process. Our team is available 24/7, so you can reach us whenever you need us.
Our rear-end accident lawyers are ready to take your call. If you were the victim of a rear-end car accident, call us today at (706) 863-6600, and we'll get you on the road to recovery.