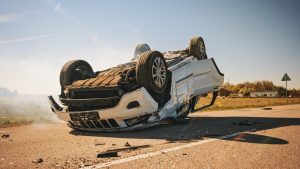 Were you paralyzed after being injured in an auto accident that was caused by a negligent driver? Chris Hudson Law Group may be able to help you pursue compensation for your injuries. Call us at (706) 863-6600 or use our contact form to schedule a free case review and legal consultation.
Being paralyzed in an auto accident completely upends your life. No one expects to be seriously injured in an auto accident, let alone suffer a permanent, severe injury like paralysis. You may not be able to work in the same job you held before the auto accident nor enjoy the same physical activities. If that isn't consequential enough, you could be facing years of needing medical care and assistance that can cost hundreds of thousands of dollars.
The auto accident attorneys of Chris Hudson Law Group in Augusta, GA can help you seek compensation not only to cover these financial costs but also the mental and emotional cost that your paralysis has had on you. Since 2005, we've represented auto accident victims who suffered various serious injuries to help them recover compensation for their losses.
To schedule a free consultation, call Chris Hudson Law Group immediately at (706) 863-6600 or contact us online.
Types of Paralysis
There are several types of paralysis based on which parts of your body are paralyzed. If one of your legs or one of your arms is paralyzed, you have monoplegia. If both your arm and your leg on one side of your body are paralyzed, you have hemiplegia. If you can't control or move both of your legs, you have paraplegia. If you're completely paralyzed, meaning you can't move either of your arms and legs, you have quadriplegia, also called tetraplegia.
You can either be partially or completely paralyzed by damage to your brain or spinal cord. When you have partial paralysis, you still have some type of control over your muscles and nerves in the area of the body that is paralyzed, or you can still feel those muscles. Complete paralysis means you have no feeling or control over the paralyzed muscles.
The Impact that Paralysis Can Have on Your Life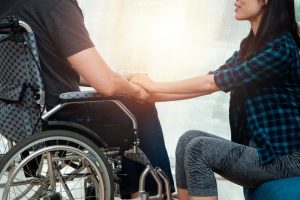 Likely, you won't be able to work or drive after being paralyzed. You'll need modifications made to your home and your mode of transportation. You may need a home health aide to help you do many of the things you used to do without a second thought. You may have to attend rehabilitation and/or physical therapy, as well as visit other medical specialists that your injury may require. All of this not only completely changes the way you live your life, but it's also costly.
These costs are even harder to afford when you're unable to work. While you may qualify for Social Security Disability because your paralysis is a permanent disability, it may not be enough to cover the costs of everything you'll need to adjust to and manage the effects of your paralysis on all areas of your life.
According to the National Spinal Cord Injury Center, it's estimated that an adult would likely incur millions of dollars in medical expenses for the rest of their lives after suffering a spinal cord injury that caused them to be paralyzed. Most accident victims aren't prepared or able to afford such mammoth expenses. That's why you should pursue compensation. If you're successful, the compensation payment you receive could help cover these costs.
The effect of your paralysis on your emotional and mental health is just as significant. Your way of life has changed suddenly. You can't use your limbs or move your body in the way that you used to be able to. The shock and trauma that result could cause debilitating mental health disorders, like anxiety and severe depression.
Compensation You May Be Entitled To
Sustaining a paralyzing injury is financially and emotionally costly. You could be compensated or recover damages for these losses. Compensation for financial losses is called economic damages, while compensation for the effect that your paralysis has had on you mentally and emotionally is known as non-economic damages.  If you receive a settlement from the insurance company or are awarded damages in court, the compensation could cover the following:
Medical costs
Future medical treatment costs
Loss of income or wages
Loss of future income or wages
Property damage
Emotional distress
Loss of enjoyment of life
Loss of quality of life
Permanent disability
The court could also award you punitive damages if you're successful in a personal injury lawsuit. Punitive damages can be significant in amount, but they're rarely awarded. This type of compensation is a punishment for the negligent party.
Pursuing Compensation for Your Injuries
When you decide to pursue compensation for your auto accident-related paralysis, you begin by filing a personal injury claim with the negligent driver's insurance company. The insurance adjuster will likely try to undermine your position so that they can offer you a settlement for less than the amount you're entitled to in order to save money.
Assuming you've hired an attorney, your attorney will negotiate with the insurance company for the highest amount of compensation you may be entitled to. If negotiations are successful, the insurance company will have agreed to compensate you fully. If negotiations are unsuccessful, then your attorney may advise you to file a lawsuit against the negligent driver as the next step in trying to obtain fair compensation for your injuries.
If you decide to file a personal injury lawsuit, you'll have to prepare for the potential of a long and complicated journey. Your attorney will litigate your case at trial. A judge or jury will decide whether to award you compensation and if so, in what amount.
Contact An Experienced Car Accident Lawyer from Chris Hudson Law Group
If you were paralyzed in an auto accident that wasn't your fault, hire an experienced car accident attorney from Chris Hudson Law Group to help you pursue compensation for your injuries. Your lawyer will be able to advise you on what (not) to do and how to build a strong case.
Our legal team has helped our clients obtain millions in settlements and awards. After the traumatic and life-changing event that resulted in your severe injury, compensation could help you move forward with your life with less of a financial burden.
Call us today at (706) 863-6600 to schedule a free consultation about how we can help you.