When someone causes an auto accident but doesn't stop or leaves the scene prematurely, it becomes a hit-and-run situation. If this has happened to you or a loved one, you understand how upsetting it can be when a motorist fails to take responsibility for the consequences of their actions. Call Chris Hudson Law Group at (706) 863-6600 to speak with a hit-and-run accident lawyer who can help you get compensation and justice in your case.
This kind of reckless behavior is not uncommon in the Augusta area, and hit-and-run accidents seem only to be increasing in the United States. It is estimated that a hit-and-run takes place every 43 seconds. These types of accidents include:
A driver colliding with another vehicle and causing property damage and injuries to the occupants.
A driver hitting a pedestrian or bicyclist, resulting in injuries and property damage.
A driver hitting a parked car and failing to leave a note or try to contact the vehicle's owner.
Motorists may choose to flee the scene of an accident because they are afraid they will face other charges because of circumstances such as these:
The driver doesn't hold a valid license.
The driver doesn't have an auto insurance policy.
The driver is impaired by drugs or alcohol.
The driver is an undocumented immigrant or has an outstanding warrant for arrest.
Tracking down the fleeing driver is possible, but when it can't be done there may still be options for seeking compensation for your injuries and expenses. You have rights, and the hit-and-run accident lawyers at Chris Hudson Law Group will stand by you to ensure they are upheld. Don't hesitate to call us at (706) 863-6600 to get a free initial consultation scheduled right away.
What You Get When Chris Hudson Law Group Takes On Your Hit-and-Run Case
In order to obtain the compensation you deserve for your injuries from a hit-and-run accident, an insurance claim must be filed. Getting a fair settlement for the claim takes skilled negotiation, and you can rely on a Chris Hudson Law Group lawyer to handle this so you can concentrate on your physical and emotional recovery. Here is what we will do for you:
Assemble evidence: Even if the at-fault driver cannot be located, there is still evidence to be collected. We can get photos or video from the site of the accident, hear statements from any witnesses, and gather pertinent information about your injuries from medical reports.
Manage your insurance claim: Our attorneys are adept at all the steps involved in the process of filing a claim. We manage the correspondence, paperwork, and deliberation to build a strong case for you.
Prove liability when possible: If the police are able to track down the negligent driver, Chris Hudson Law Group lawyers will organize and present the evidence from the scene of the accident to prove fault.
Obtain fair compensation for you: Our skilled attorneys will identify all forms of compensation you are eligible for and discern a fair value for your claim. With us on your side, the insurance company will not be able to deny or delay your claim, and we will negotiate the settlement you are entitled to.
Handling Hit-and-run Accident Claims in Georgia
In situations where the police succeed in locating the hit-and-run driver, you can file a personal injury claim with their auto insurance company, as long as they have insurance. If the at-fault driver cannot be found, your remaining option is to file a hit-and-run claim with your own insurance company, if you have the right type of coverage within your auto policy.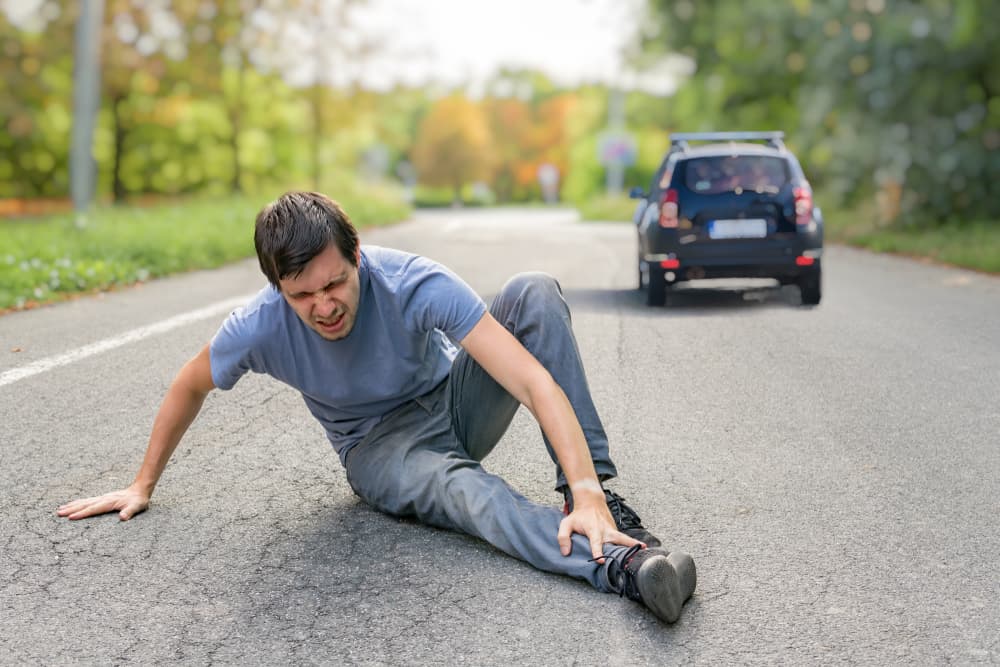 Uninsured Motorist coverage protects you in situations when the driver who causes an accident does not have insurance or their identity is unknown. With this coverage, you can still pursue compensation for the damages incurred from the accident. Uninsured Motorist coverage is not a requirement for drivers in the state of Georgia, but insurance companies are obligated to offer it to all Georgia residents to whom they sell auto policies.
When Chris Hudson Law Group lawyers investigate hit-and-run accidents, we review our clients' policies to verify that Uninsured Motorist coverage is included. If it is missing, we do the research to find out if the insurance company actually did offer the coverage to you as they are legally required to.
Understanding Georgia Law for Hit-and-run Accidents
Georgia drivers have a legal duty to stop at or return to the scene of any accident they are involved in that causes damage, injury, or death.  After stopping, drivers are mandated to take all the following actions:
Deliver reasonable assistance to victims by alerting first responders, transporting, or arranging for transportation for anyone who requires medical attention.
Provide their name, address, and vehicle registration number.
Display their driver's license to whoever else is involved in the accident.
Drivers who leave the scene of an accident without completing their duties have committed a crime and can be charged with either a misdemeanor or a felony, depending on the severity of the accident:
Property damage – For a minor accident that doesn't cause serious physical injury, fleeing the scene is considered a misdemeanor offense. A conviction can result in fines of $300-$1,000 and/or up to 12 months in jail.
Death or bodily injury – If the accident results in death or a serious injury and the driver leaves, it is a felony offense. Penalties for conviction are based on whether the hit-and-run driver has previously been found guilty of a felony.
A first-time conviction carries a punishment of a $300-$1,000 fine and/or up to 12 months in jail.
For a second conviction within five years, the penalty is a $600-$1,000 fine and/or up to 12 months in jail.
A third or subsequent conviction within the previous five years results in a $1,000 fine and/or up to 12 months in jail.
What to Do After a Hit-And-Run Car Accident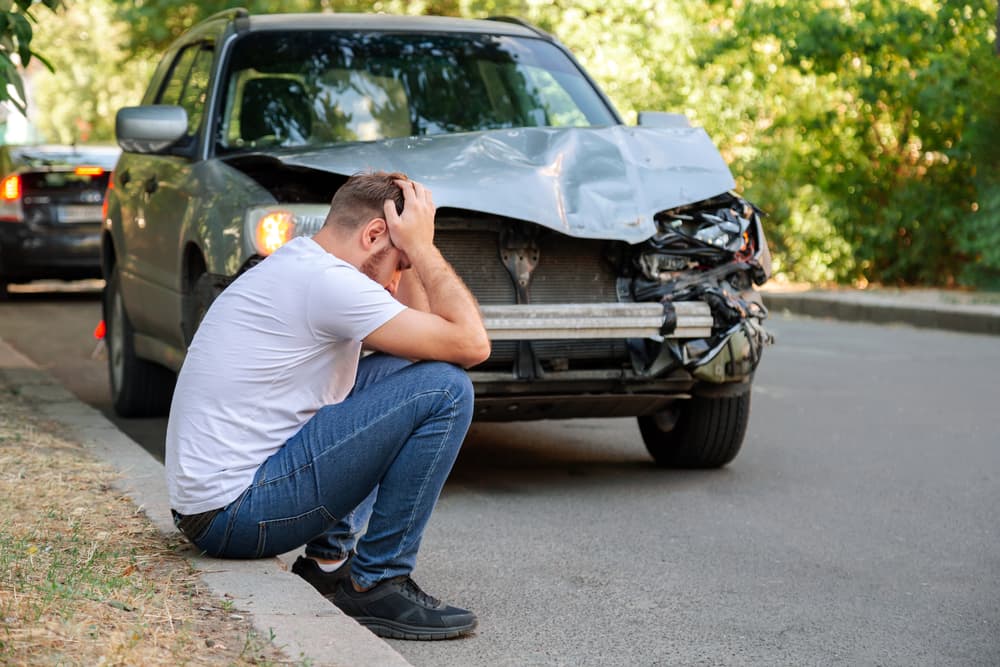 A hit-and-run collision is an unsettling event, but there are actions you can take to care for yourself and preserve important information for your insurance claim. If you are physically and emotionally able to do so, it is recommended that you follow these steps:
Try to identify the vehicle that struck you. If possible, get the license plate number. This may be difficult in such a startling occurrence, but you or a witness may be able to at least recall the vehicle's color, make, or model.
Contact the police. The police may be able to apprehend the hit-and-run suspect if they can get to the scene quickly. If not, they can come to the scene and see for themselves what happened and get the necessary information for their report directly from you.
Attend to your injuries. Obviously, you should request urgent medical attention if you are seriously injured. Otherwise, you should still go to a hospital as soon as possible after the accident, even if you assume you are unharmed. An evaluation by a medical professional can recognize injuries that may not be noticeable right away.
Document details from the accident. The specifics about the scene will be helpful for your insurance claim. This can include notes about the accident location and time, photos to document your injuries and vehicle damage, as well as contact information for anyone who witnessed the accident.
Report the accident to your insurance company. In the scenario that the hit-and-run driver is not apprehended, you will have to file an injury claim with your own auto insurance coverage.
Seek legal assistance. You don't need to face this alone. A well-informed lawyer can help you understand your rights and handle the details of your insurance claim.
Hit-And-Run Car Accident Frequently Asked Questions
Anyone who has been injured in a hit-and-run accident has plenty of questions and may not even realize that filing a claim is an option. Listed below is a sampling of answers to typical questions, but we would be happy to provide you with all of the information you need during a complimentary consultation. Schedule one by calling us today at (706) 863-6600.
How much is a hit-and-run accident claim worth?
Compensation is based on how severe the injuries are and what the cost is for medical treatment, lost wages, property loss, emotional distress, and pain and suffering. Once Chris Hudson Law Group has analyzed the particulars of your claim, we can offer a realistic estimate of how much compensation you may be eligible for.
What if the hit-and-run driver is located but they won't admit to it?
This is where skilled professionals come in. An experienced Chris Hudson Law Group hit-and-run accident lawyer has the ability to prove negligence by finding the necessary facts to support your case through a comprehensive investigation.
I didn't seek medical treatment right away. Can I still file a hit-and-run claim?
Yes, if the statute of limitations has not expired. In Georgia, you have two years to file a personal injury claim.
Contact Chris Hudson Law Group Today for a Hit-And-Run Car Accident Lawyer in Augusta, GA
If a hit-and-run driver has left you or someone you love with injuries, you have rights, and help is available. Our team will stand by you during this trying time and give your case our personal attention. Connecting with a car accident lawyer that specializes in hit-and-run accidents from Chris Hudson Law Group will make all the difference in your situation.
Just call (706) 863-6600 or complete our online form today and schedule a free consultation to review your case and get your questions answered.