Burns From Car Accident
Did you sustain serious burns from a car accident that was someone else's fault? You may be owed compensation for your suffering and losses. Call Chris Hudson Law Group at (706) 863-6600 or fill in our contact form to schedule a free case consultation.
Chris Hudson Law Group has over a decade of experience representing clients who have sustained severe injuries, including burn injuries, in car accidents. We've fought for our clients to be compensated for the trauma they experienced as a result of the accident, the pain they had to grapple with while recovering from their injuries, and the financial costs they incurred due to their injuries. We may be able to help you recover your losses and hold the negligent driver accountable so you can continue with your journey of healing from your injuries.
Call us today at (706) 863-6600 for a free initial consultation where we'll discuss your case and present you with your best legal options moving forward.
Types of Burn Injuries That Occur From Car Accidents
There are four different types of burn injuries, and each is defined by the layer of skin that is burned:
First-degree burns – damage to the top layer of the skin, the epidermis
Second-degree burns – damage to the top (the epidermis) and part of the second layer of the skin (the dermis)
Third-degree burns – complete damage to the top, second, and third layer of the skin, also called a full-thickness burn
Fourth-degree burns – complete damage to the top, second, and third layer of the skin, possibly with exposed bone. Fourth-degree burns may include damage to the muscles, bones, and tendons. Nerve endings are destroyed
How Burns From A Car Accident Are Treated
The severity of your burn injuries will determine what kind of treatment you may need.
First and second-degree burns can usually be treated with home remedies such as cold water, aloe vera gel, and over-the-counter burn cream. Some second-degree burns may require medical attention.
Third-degree and fourth-degree burns typically require emergency medical treatment because these categories of burns can be life-threatening. Third and fourth-degree burns generally require an invasive and painful procedure called skin grafting. This procedure involves replacing the severely burned skin with either artificial or donor skin or non-damaged skin from another part of the body.
Compensation for Auto Accident Burn Injuries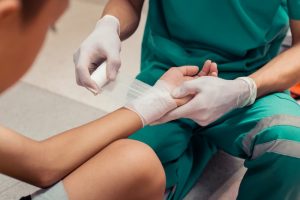 You can be compensated for the losses you've suffered as a result of your accident-related injuries. You can be awarded damages, the legal term for compensation, for your financial losses and the emotional and mental impact of your burn injuries.
Medical Treatment
Receiving medical treatment for burns can be costly, and you may not be able to work for some time depending on the severity of your injuries and your recovery. Tangible, calculated costs related to your accident are called economic damages. You wouldn't have to bear these financial costs if it weren't for the driver who caused your injuries, and because of that, they may be liable for compensating you for:
Medical costs associated with your burn injuries
Loss of income or wages
Loss of future earning capability
Damage to your vehicle and other property in the accident
Emotional Trauma
Additionally, you can obtain compensation for the emotional trauma that you've endured as a result of the accident and your injuries. Compensation for the emotional and mental consequences of your injuries is known as non-economic damages. Non-economic damages cover:
Pain and suffering
Emotional distress and mental anguish
A decline in your enjoyment of life
A decline in your quality of life
Suffering due to permanent scarring, disfigurement, or disability
Punitive Damages
If we file a lawsuit to pursue compensation for your burn injuries, you may be awarded punitive damages. These damages are meant to punish the liable party and deter them and others from repeating the same behavior that led to your burn injuries. Punitive damages are specifically awarded to injured victims in cases where the injured party proves with clear and convincing evidence that the liable party willfully acted in a way that could harm you. Because of the burden of proof that injured parties have, punitive damages are rarely awarded.
How Much Compensation Will I Receive For Auto Accident Burn Injuries?
Lastly, there's an important factor that can impact the amount of compensation that you might be able to obtain for auto accident burn injuries. Georgia follows the doctrine of modified comparative negligence. If you were partially at fault for the auto accident in which you sustained your burn injuries, your total compensation will be reduced in proportion to your fault. For example, if you were 25 percent responsible for the accident, your total compensation would be reduced by 25 percent. So if you were entitled to receive $100,000 in compensation, your compensation would be reduced to $75,000.
You won't be able to obtain any compensation for your burn injuries, however, if you were 50 percent or more responsible for the auto accident. Whether you were exactly 50 percent or 70 percent responsible for the accident, you are barred from recovering any compensation for your losses.
Call a Chris Hudson Law Group Car Accident Attorney Today
If you've sustained serious burns from a car accident that was caused by someone else, you may be able to obtain compensation.
The experienced Augusta car accident attorneys of Chris Hudson Law Group have helped hundreds of our clients pursue the compensation they were owed. We'll fight the insurance companies to pay you what you deserve for your injuries, and will prepare to take your case to court if we have to in order to seek fair compensation for your losses.
Our dedication and skills have led to us helping our clients recover millions of dollars in settlements and awards. We'll be by your side throughout the entire process of pursuing compensation and take on the hard work of fighting the insurance company so you can focus on what matters most.
For a free initial consultation, call us today at (706) 863-6600 or contact us online. We'll discuss the details of the accident, the extent of your burn injuries, and advise you on the next steps you should take to pursue the compensation you deserve.