Laceration Injury From Car Accident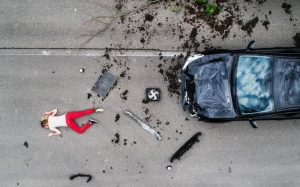 Did you sustain a serious laceration injury in a car accident that was caused by another driver's negligent actions? It's your legal right to seek compensation from the at-fault driver for your injuries. Call (706) 863-6600 to schedule a free legal consultation with one of our car accident lawyers.
Lacerations sustained in car accidents can be serious injuries. While they're often treatable, severe lacerations may require extensive treatment, surgery, or other procedures. The risk of permanent scarring from severe lacerations is high. Having to get extensive medical treatment or being left with permanent scarring from the laceration injury can cause you significant pain, suffering, and hefty medical costs.
The Chris Hudson Law Group has years of experience fighting to hold at-fault drivers responsible for causing serious injuries to our clients. We can help you pursue full and fair compensation for your injuries from the conference room to the courtroom, whichever is necessary.
For a free consultation with one of our attorneys, call us at (706) 863-6600 or fill out our online contact form.
Lacerations and Treatment for Lacerations
You are likely familiar with cut injuries, which typically refer to less serious, more superficial tears in the skin. Lacerations, however, refer to more severe, deep tears in the skin. Some people refer to lacerations as "gashes".
Lacerations are common car accident injuries. Blunt force trauma is one of the major causes of lacerations, and car accidents often lead to blunt force trauma in accident victims.
Laceration injuries can be extremely painful. Some laceration injuries result in permanent scarring, and damage to the tendons or nerves. Lacerations on certain areas of the body can cause additional damage, even beyond just the skin. For example, lacerations to the hands can damage the nerves in the hand which can affect the mobility of your fingers. Lacerations to the face can sometimes lead to facial bone fractures, particularly when the laceration is caused by blunt force trauma.
The goal of treating lacerations is to stop the bleeding and prevent it from becoming infected. To prevent infection and keep the wound clean, a medical professional may use stitches to close the wound and allow it to heal. Also, depending on the severity of the laceration, you may even need plastic surgery to improve the appearance of the scar or to modify any scar tissue that can form as the cut heals.
What Should I Do After I've Sustained Lacerations in a Car Accident?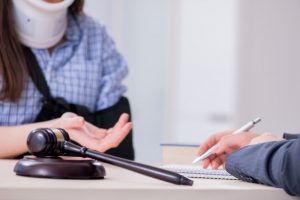 The first thing you should do after an accident is to seek immediate medical attention for your injuries. To protect your health and well-being, you need to have your laceration injury treated by medical professionals.
You should also call law enforcement to the scene of the accident so they can draft a police report. The police report will contain details about the accident, as well as statements from you and the other driver. They may take photos of the wreckage and the scene, which would be included in the police report.
Seeking emergency medical attention and having a police report filed are both important pieces of evidence that may be critical for the success of your claim or case. The medical attention you received for your laceration injury will be included in your medical record. Your medical record and the police report can prove the extent of your injuries and help calculate the financial cost of your treatment. Likewise, the police report can prove that you were involved in a car accident and can provide contemporaneous statements about the accident and how it occurred.
Additionally, you should hire an experienced car accident attorney as soon as possible. A car accident attorney from Chris Hudson Law Group can get to work on your case right away to pursue the compensation you deserve. Your accident attorney can also better protect you from doing or saying anything that could compromise your claim or case. This is especially helpful with regard to the next steps you should take after being injured in a car accident.
Don't speak to the insurance company's representatives. The insurance company will use a variety of tactics to try to limit the amount of compensation that you may be owed. If they contact you soon after the accident as part of their investigation, it's best to refer them to your attorney. You don't want to say something that could hurt your claim or case.
The Process of Pursuing Compensation
Seeking compensation for your car accident laceration injuries typically begins with filing a claim with the at-fault party's insurance company. The insurance company will then investigate the accident (your attorneys will have conducted their own investigation of the accident to determine liability and gather evidence for your claim). The insurance company will likely try to offer you a settlement for less than your claim is worth. Your attorney will negotiate for as long as it takes to try to get the insurance company to pay you the full compensation you may be owed.
If the insurance company offers you a fair settlement that you're satisfied with, the process stops there. However, if you're dissatisfied with what the insurance company is offering after reasonable negotiations, then your attorney can file a lawsuit against the at-fault party to try to get the full compensation that you deserve.
After filing a lawsuit, the court process begins, which can be lengthy and challenging. There will be a series of hearings leading up to the trial in which a judge or jury will decide whether you're owed compensation for your injury and, if so, the amount of compensation you're to be paid. It's possible that at any time during the litigation process, a settlement could be reached between you and the at-fault party (and their insurance company).
Contact Our Experienced Car Accident Attorneys Today for Help with Your Case
If you've been involved in a car accident that wasn't your fault and suffered serious laceration injuries as a result, contact the car accident attorneys of Chris Hudson Law Group in Augusta, GA immediately.
Our highly skilled personal injury attorneys have helped hundreds of satisfied clients and may be able to help you obtain compensation for your injuries and the resulting losses you've incurred.
When you call us at (706) 863-6600 or contact us online, we'll provide a free initial consultation to discuss your legal options with you.
We're here to help you get justice for your injuries so you can get on with your life and put this accident behind you.